We have a new home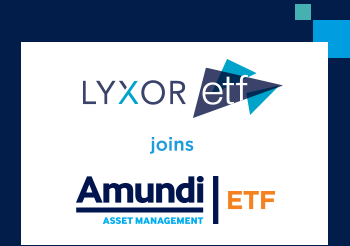 Read more
Fixed Income ETFs
The way they should be
Build better bond portfolios
Bonds still have an important role to play in most investors' portfolios but rising inflation and rates, Brexit and a potential ECB taper mean you may need to be more selective with what you hold. It's no time to be blithely banking on bonds. Investment success may depend on your ability to move decisively, hedge effectively and use shorts wisely.
At times like these you need as many options as possible. Choose Lyxor ETF for a more complete toolkit than other ETF providers can offer."
Be more selective with your bonds
Matthieu Mouly Head of Lyxor UK and Global Head of ETF Sales
60+ ways to explore the fixed income market



*Leveraged ETFs amplify both gains and losses.
Learn more about fixed income ETFs


Why choose Lyxor for fixed income ETFs
Lyxor is the one of the largest and among the most liquid providers of physical fixed income ETFs in Europe2
No other European provider has been running ETFs as long as we have
Our track record in delivering secure, liquid and precise tracking is second to none
We have more than 60 ways to explore fixed income markets
1Source: Lyxor International Asset Management, as at June 2017.
2Source: Lyxor International Asset Management. $14.2bn in total fixed income ETF assets under management as at 31/03/2017.
Far reaching
Dependable
Accomplished