We have a new home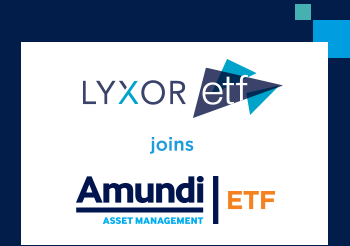 Read more
Temperature measurement methodology
How Lyxor measures the temperature of its funds
Lyxor measures the alignment of its equity and corporate bond funds with the climate goals of the ParisAgreement. Our methodology calculates a fund's temperature using the GHG emissions intensity (or'carbon intensity' when converted into CO2 equivalent) of the issuers to which a fund is exposed.
Daily Numbers – Le point quotidien exceptionnel de Lyxor ETF
La Recherche ETF de Lyxor vous propose ce RDV quotidien pour vous tenir informé pendant la crise du COVID-19 et partager ses mises à jour sur les marchés, flux des fonds actifs et passifs, volume de trading des ETF et plus encore…
En cas de difficulté pour accéder au document, veuillez contacter client-services-etf@lyxor.com
INFORMATIONS IMPORTANTES - RGDP
Toutes les données personnelles sont collectées en conformité avec les lois et réglementations applicables, ainsi qu'avec la politique de confidentialité des données de Lyxor.
Pour plus d'informations sur le traitement des données, nous vous invitons à lire les modalités et conditions générales sur le site internet lyxoretf.com.
Vous disposez, à tout moment et gratuitement, du droit de vous opposer à l'utilisation de vos données personnelles à des fins de prospection commerciales ou communiquées à des tiers à cet effet.
Vous pouvez exercer votre droit en contactant le délégué à la protection des données à l'email à l'adresse suivante: client-services-etf@lyxor.com.